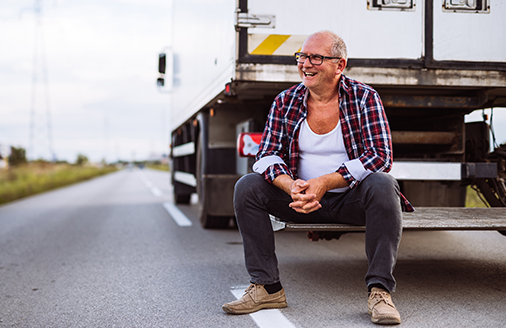 You know what makes a great trucking company? Great drivers. No matter how much technology you have, it is useless if there are no people to operate the vehicles or trucks and get them from point A to B safely. It doesn't mean they need fancy offices with games and TVs in order for their employees to enjoy themselves while on break; all that matters is having good workers who take pride in doing well at this job as opposed to just showing up every day because of necessity or duty like soldiers going off into battle without question.
To thrive as an organization, you first must jive with your drivers. Here are seven tips for making your drivers feel like they are a part of the family.
Listen: It's the simplest of the seven, yet often the most overlooked. Being out on the road so much is challenging. Oftentimes, the best thing that you can do as a dispatcher or operations manager is to simply be someone who listens to them. Sometimes the only people they talk to throughout the day are the gatekeepers at the shippers and receivers where they pick up and deliver.
Get to know them as people: Nobody wants to be another number on a spreadsheet. Ask about their families and what they do when they're not on the road. Why did they become a truck driver? Perhaps they have a family history in the industry? Maybe they wanted to see the country? Everyone's different and has their own set of needs and expectations.
             *Some folks want to shut up and drive! Respect their style if that's how they want to operate!
Maximize their miles and hours: For most driving jobs, they earn their pay based on their total miles driven. It is the dispatcher's responsibility to provide the correct routing and time management to help the drivers work as efficiently as possible. Becoming an expert on HOS rules is the first step to becoming the partner your drivers deserve.
Gain Trust: It starts with honoring your commitments to your team. Failing to uphold your end of the bargain, whatever that may be, damages the relationship and, if done enough, will create irreparable damage. Taking that a step further, be careful not to make commitments that will be impossible or nearly impossible to keep.
Get them home when they want to be home: As we mentioned already, every driver, just like every person, is different. Some want to be home nightly, some weekly, some monthly, and some prefer to live their life out of their cab. To those who value home time, give it to them. One of the top reasons drivers leave a company is due to break home time guarantees. Everyone is vulnerable to burnouts.
Communication/Transparency: No one likes to have orders barked at them. At the same time, every job will have its requirements that are less than ideal. When making difficult requests of your drivers, help them to understand the context behind the request. Explain the circumstances and the big picture. After all, they're a part of the team and empowering them to make decisions can make everyone's job easier in the long run.
Recognition of a job well done: Give credit where credit is due! These incredible people work long shifts and tolerate terrible drivers when out on the road. A simple "THANK YOU" and "GREAT JOB" can go a looooooong way! Give them a gift card for a free nice dinner, a night in a hotel, a simple phone call from an executive, or, heck, maybe some new rims for their ride (if that's what they want) could turn that driver into one of your most loyal team members.
Great trucking companies are comprised of great drivers. Treat them as you'd want to be treated yourself and watch your fleet grow.